"It is a happy talent to know how to play" – Emerson
Welcome to Tinker Tray Play. Established August 2018, Tinker Tray Play is a small family run business on the Dorset Coast. It began as a maternity leave venture selling homemade Tinker Trays, this expanded to include Treasure Baskets and I now stock hundreds of products and have some amazing brand partners.
Every toy and play set has been personally selected by me. Previously the owner of Little Stars Childminding and mum to two beautiful little stars of my own, I've been blessed with an in house product testing team. If they don't like it, or I wouldn't use it myself in my setting or my home then I won't stock it! And of course, all educational resources need to support the learning goals of the Early Years Foundation Stage and this is key in my decision making.
As you can see from my collections, I LOVE wooden toys and natural play, but there's also a place for synthetic. The Early Years Resources collection has some fantastic STEM equipment using rainbow coloured plastics that I just love!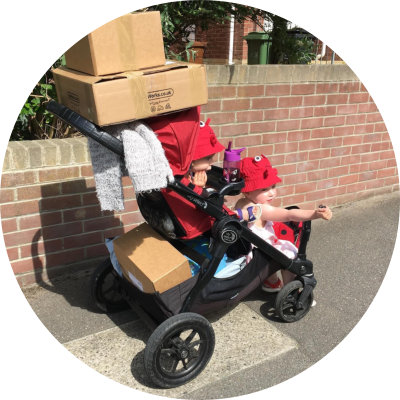 I have a passion for play. I strive to inspire little minds and create beautiful play environments that capture imaginations. A firm believer in the power of open ended play, it is so important to me that the resources I sell are engaging and educational as well as being super FUN. I want to cultivate curiosity and inspire new interests; to enable the child to create and learn in a way that is unique and meaningful to them. It is during this pursuit of individual interest that the magic happens and true learning through play occurs.
These beautiful toys and resources are invitations to play, great for all ages and stages of child development. A fantastic addition to your classroom, childcare business, your homeschool learning environment, nursery or play room, or as a gift to a friend or colleague.
I am more than happy to create bespoke trays and baskets for any special occasion or to match a particular theme or topic. Just send me a message!