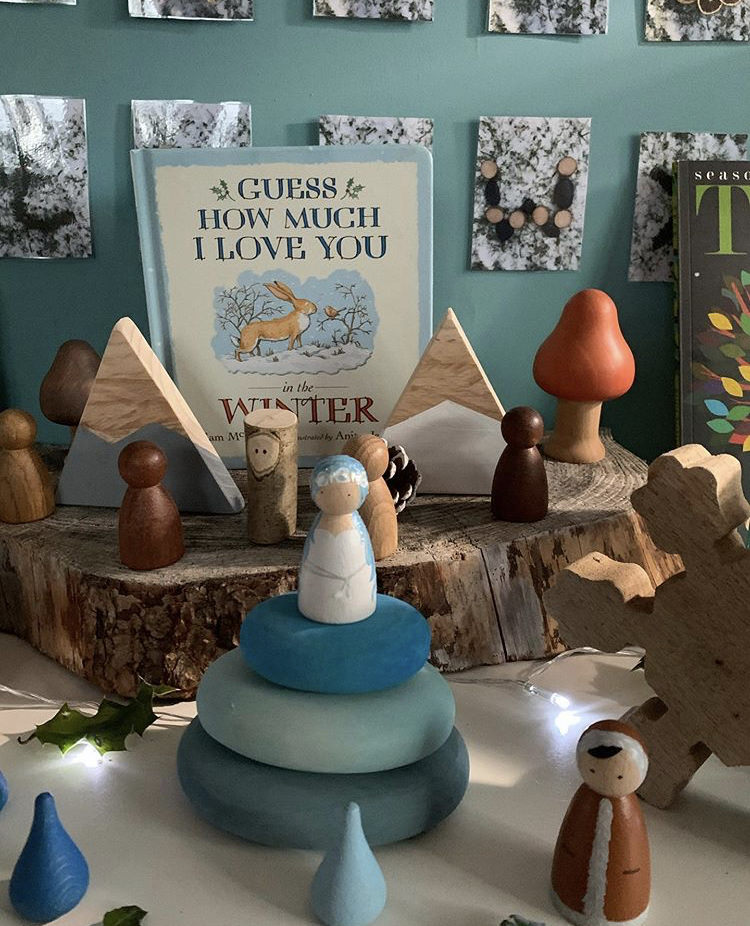 This months guest blog is by the fantastic Kimberly Smith from KSEY Consultancy. Lots of the members of my rep team are enrolled on her Hygge in the Early Years Accreditation™ course so I approached Kimberly for advice when creating a Hygge Collection for the website. Lots of great ideas that will help you embrace Hygge in your home or childcare setting.
Photo by Sam Goldsworthy Childminding.
Hygge is the Danish secret to life that leads to increased happiness, balance and wellbeing. Although there is no direct translation into English it is more of a feeling. It focuses on slowing down and living in the moment by feeling the joy there is in everyday routines and activities. It's also about surrounding yourself with the things that make life good; friendships, connection, laughter and feeling safe. For example it could be the togetherness you enjoy as you come together as a family for an evening meal, or the cosy warmth you experience as you're sat on the sofa reading a book next to the crackling fire while it's snowing outside.
When I started my hygge journey it was a way of recognising that we need to change how we as educators work in the early years, having reflected on the pressures we put on ourselves and on the children in our settings. Through my travels and explorations around Scandinavia I began to see that this way of living wasn't just a trend that would come and go. It equally wasn't a luxury or something that money could buy into. It required more than an overnight transformation: hygge is a long-term investment in your own self-care and needs to be a daily commitment to looking out for those around you and it's one that I believe can make a positive difference in early years settings and homes.
Hygge in the Early Years
Meik Wiking from the Happiness Research Institute in Copenhagen (and the author of The Little Book of Hygge) believes that there are 10 distinct elements that must be considered when adopting a hygge lifestyle:
Atmosphere – creating a calm vibe.
Presence – not being on your phone and living in the moment.
Pleasure – life should be fun, enjoyable and bring great happiness.
Equality – no one is better than anyone else.
Togetherness – spend time with people you care about and those that make you smile.
Gratitude – take time to reflect on what you're grateful for.
Harmony – life is not a competition.
Truce – there's no need for arguments.
Comfort – relax, wear fluffy socks and be cosy.
Shelter – your home is important.
Taking this as a starting point, I believe there are many simple, practical ways that we can bring the hygge philosophy into our playrooms and provision;
Why not create a warm atmosphere by turning off your larger over head lights and replacing these with table lights, twinkly lights, LED Candles and even filling jars with fairy lights.
Create cosy resting nooks in which children and adults can share a book together. A reading tepee with a sheepskin rug in it and some soft fluffy cushions make a perfect start.
The Danes like to embrace nature in their day as much as possible. This is often done by foraging for nature and displaying it in their home. Why not start a nature shelf with natural treasure collections, display flowers from the garden in jam jars and suspend fallen branches from the ceiling and drape with fairy lights.
Share special memories you've had together as a group by printing them out and putting them in photo frames.
Create small places to talk and be together. Add some interesting objects to them to encourage discussion or an enchanting small world scene of a wooden cabin in the forest.
Try to declutter your learning environments to make them feel like calmer spaces.
Take inspiration from Scandi interior design and go for more neutral colours like whites and greys.
The Danes each take steps to live in a more sustainable way and try to use natural toys and resources as much as possible.
To find out more on bringing Hygge into your practice take part in my Hygge in the Early Years ™️ Accreditation at www.hyggeintheearlyyears.co.uk
Kimberly Smith
Kimberly has worked in Early Years Education for the last 15 years as an early years teacher and leader. During this time, she has worked with leading Early Years professionals on longitudinal research contributing to the field of what high quality practice looks like.  Kimberly is founder of KSEY Consultancy which is an international hub for supporting early years teaching, learning and inspiration. Working with thousands of early educators around the world on improving their teaching and quality of life.
Photo below by Rebecca Martin, Little Explorers Childminding, Weymouth.